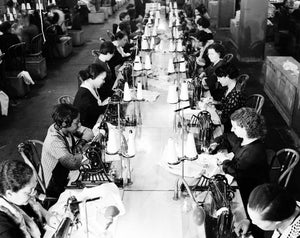 Once a place that manufactured over 60% of all of what we wore, the garment district, a rich part of our history. Aging Creative remembers on this Labor Day, the pattern cutters, the sewing machine operators and all the workers and shop owners  selling buttons and zippers. We Remember you!It is only through labor and painful effort, by grim energy and resolute courage, that we move on to better things. --Theodore Roosevelt Please read article    
---
First, I wish to acknowledge all those aging advocates who find the word dinosaur offensive. I simply ask you to ignore the obvious and embrace the metaphor without judgment. I recently received a hand-written note from a marketer following their visit. Now, in a world dominated by emails and texts, I was delighted to open their heartfelt message. This prompted me to make a list of all the things that I still find pleasure in while the rest of the world has modernized: Removing a record from its album sleeve, reading the cover front to back and playing a selected...
---
I recently presented a workshop training for my program Loving Words Again for professional caregivers, at a local home health agency, and the initial response was typical. When I asked how many yays and nays, on poetry, I received the typical 50% for each. You can't effectively teach poetry to individuals with dementia unless you feel inspired yourself, so how do you get there? I remind my participants to recognize the beauty in the words they hear every day. Like the song that comes on the radio and the words spoken over the loudspeaker at a baseball game, " And it's out...out.........out of here!"...
---
 With the world being what it is today, maybe a big shot of tennis is just what we need. Think about it. Tennis has always exemplified a certain amount of civility in comparison to many other sports. Can you just imagine having every news channel of today, covering all the senior champions of yesteryears: Billy Jean King, Arthur Ashe, Jimmy Connors, Andre Agassi, Bjorn Borg, Pete Sampras, Chris Evert, Martina Navratilova and more. Hardly ever a fight, while the crowd keeps their opinion, for the opposing player, respectfully silent during the match. There is no critiquing of a player's politics as the victor...
---
--

is
Living Life at your own pace