As I write this piece, it's June 23rd, one of my favorite days of the year. It is the day before my birthday. On this day, there are always those feelings of hope, eagerness, and preparation for that big day where I get to be totally self-centered without judgment from others. For me, once midnight comes around on my birthday, I start to feel like it's almost over, and I have to wait another whole year.  Silly but true. This year I've had to cover my ears and look away while living in these times is exhausting. No matter how hard I try to...
---
It's 2022, and like every year, the Academy Awards sneak up on my calendar. "Of course, it's March!!"  I enjoy and look forward to them, but not like the millions that tune in five hours before watching the fashion critique. ------Okay, I said it, but that's just me. I have my own thing about the Oscars. One of my most cherished Academy Awards nights was in Chicago in 1986. I was visiting my sister and dear friend John who were both on business. My first trip to the Windy City did not disappoint me. Aside from being in an exciting...
---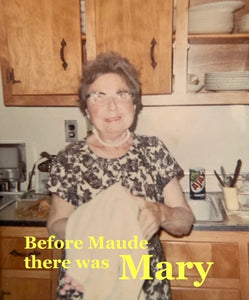 It was 1971, and two things that remain filed deep in my memory are getting my driver's license and seeing the marquee sign above the Ridgeway Theater in Stamford, Connecticut, for the movie Harold and Maude. And thus, began my Mother Goddess worship for Ruth Gordon, the feisty, mature actress who played Maude alongside her beloved young Harold. Surprisingly, as quickly as my infatuation developed, it continues today. Just saying her name is an affirmation for positive thoughts and rising above mediocrity. "Vice, Virtue. It's best not to be too moral. You cheat yourself out of too much life. Aim above morality. If you apply...
---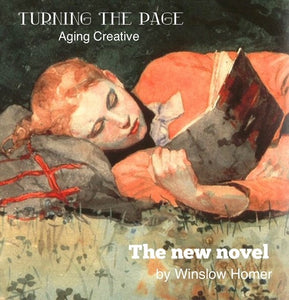 There is something so notable in the touch of a corner of a book page. Pulling it back, away from the next one, in those few seconds, as if you put an open hand behind your ear, you give full attention to the writer.  The silent pause then draws you further into the story. 
---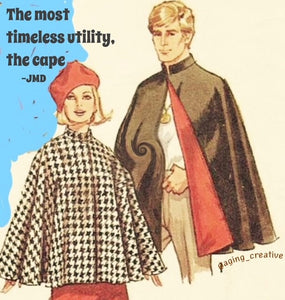 When I put on a cape, I feel lifted under the fabric while feeling unrestricted and free. Alongside is a sense of sophistication, in contrast to feeling plain ordinary.